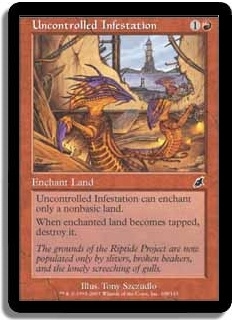 [Purchase on eBay]


Value: $0.11

All Editions:




Name:
Uncontrolled Infestation

Edition:
Scourge

Type:
Enchant Land

Color:
Red

Cost:
1R

Power / Toughness:


Rarity:
Common

Artist:
Tony Szczudlo

Text:
Uncontrolled Infestation can enchant only a nonbasic land. When enchanted land becomes tapped, destroy it.

Flavor:
The grounds of the Riptide Project are now populated only by slivers, broken beakers, and the lonely screeching of gulls.