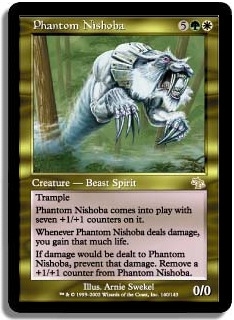 [Purchase on eBay]


Value: $2.34

All Editions:




Name:
Phantom Nishoba

Edition:
Judgment

Type:
Creature - Beast Spirit

Color:
Multi

Cost:
5GW

Power / Toughness:
0/0

Rarity:
Rare

Artist:
Arnie Swekel

Text:
Trample
~this~ comes into play with seven +1+1 counters on it.
If damage would be dealt to ~this~, prevent that damage. Remove a +1/+1 count from ~this~.
Whenever ~this~ deals damage, you gain that much life.