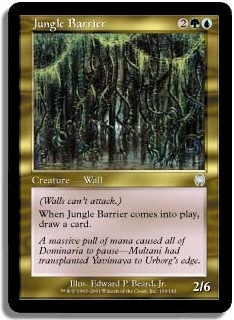 [Purchase on eBay]


Value: $0.21

All Editions:




Name:
Jungle Barrier

Edition:
Apocalypse

Type:
Creature - Wall

Color:
Multi

Cost:
2GU

Power / Toughness:
2/6

Rarity:
Uncommon

Artist:
Edward P. Beard, Jr.

Text:
(Walls can't attack.) When Jungle Barrier comes into play draw a card.

Flavor:
A massive pull of mana caused all of Dominaria to pause-Multani had transplanted Yavimaya to Urborg's edge.