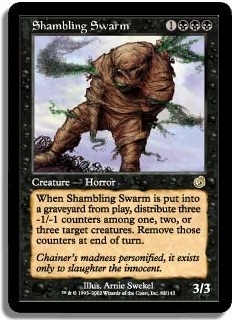 [Purchase on eBay]


Value: $0.44

All Editions:




Name:
Shambling Swarm

Edition:
Torment

Type:
Creature - Horror

Color:
Black

Cost:
1BBB

Power / Toughness:
3/3

Rarity:
Rare

Artist:
Arnie Swekel

Text:
When Shambling Swarm is put into a graveyard from
play, distribute three -1/-1 counters among one, two,
or three target creatures. Remove those counters at
end of turn.


Flavor:
"Chainer's madness personified, it exists only to slaughter the innocent."