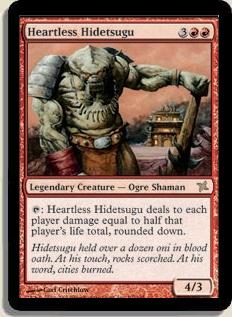 [Purchase on eBay]


Value: $0.59

All Editions:




Name:
Heartless Hidetsugu

Edition:
Betrayers of Kamigawa

Type:
Legendary Creature - Ogre Shaman

Color:
Red

Cost:
3RR

Power / Toughness:
4/3

Rarity:
Rare

Artist:
Carl Critchlow

Text:
Tap: Heartless Hidetsugu deals to each player damage equal to half that player's life total, rounded down.

Flavor:
Hidetsugu held over a dozen oni in blood oath. At his touch, rocks scorched. At his word, cities burned.