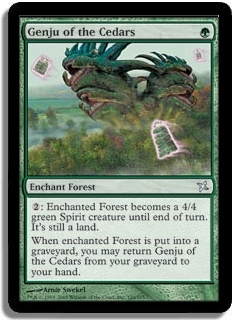 [Purchase on eBay]


Value: $0.24

All Editions:




Name:
Genju of the Cedars

Edition:
Betrayers of Kamigawa

Type:
Enchant Forest

Color:
Green

Cost:
G

Power / Toughness:


Rarity:
Uncommon

Artist:
Arnie Swekel

Text:
2: Enchanted Forest becomes a 4/4 green Spirit creature until end of turn. It's still a land.
Whenever enchanted Forest is put into a graveyard, you may return Genju of the Cedars from your graveyard to your hand.