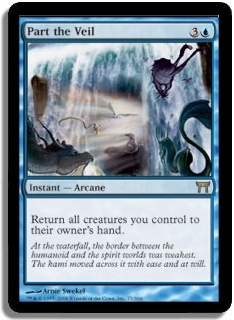 [Purchase on eBay]


Value: $0.37

All Editions:




Name:
Part the Veil

Edition:
Champions of Kamigawa

Type:
Instant - Arcane

Color:
Blue

Cost:
3U

Power / Toughness:


Rarity:
Rare

Artist:
Arnie Swekel

Text:
Return all creatures you control to their owner's hand.

Flavor:
At the waterfall, the border between the humanoid and the spirit worlds was weakest. The kami moved across it with ease and at will.