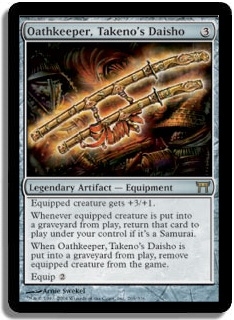 [Purchase on eBay]


Value: $0.63

All Editions:




Name:
Oathkeeper, Takeno's Daisho

Edition:
Champions of Kamigawa

Type:
Legendary Artifact - Equipment

Color:
Artifact

Cost:
3

Power / Toughness:


Rarity:
Rare

Artist:
Arnie Swekel

Text:
Equip: [2]
Equipped creature gets +3/+1.
Whenever equipped creature is put into the graveyard from play, return it to play under your control if it is a samurai.
If ~this~ is put into a graveyard from play, remove equipped creature from the game.