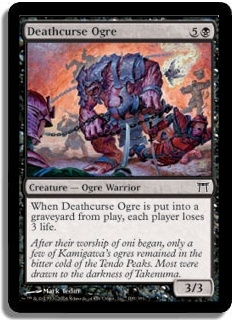 [Purchase on eBay]


Value: $0.12

All Editions:




Name:
Deathcurse Ogre

Edition:
Champions of Kamigawa

Type:
Creature - Ogre Warrior

Color:
Black

Cost:
5B

Power / Toughness:
3/3

Rarity:
Common

Artist:
Mark Tedin

Text:
When Deathcurse Ogre is put into a graveyard from play, each player loses 3 life.

Flavor:
After their worship of oni began, only a few of Kamigawa's ogres remained in the bitter cold of the Tendo Peaks. Most were drawn to the darkness of Takenuma.