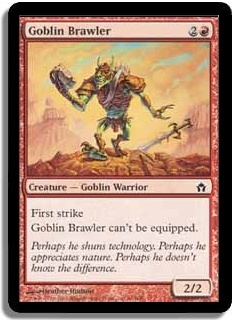 [Purchase on eBay]


Value: $0.11

All Editions:




Name:
Goblin Brawler

Edition:
Fifth Dawn

Type:
Creature - Goblin Warrior

Color:
Red

Cost:
2R

Power / Toughness:
2/2

Rarity:
Common

Artist:
Heather Hudson

Text:
First Strike
Goblin Brawler can't be equipped.

Flavor:
Perhaps he shuns technology. Perhaps he appreciates nature. Perhaps he doesn't know the difference.