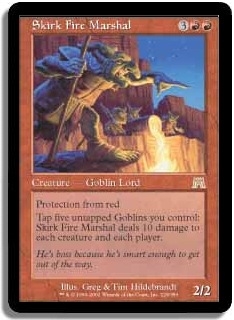 [Purchase on eBay]


Value: $0.65

All Editions:




Name:
Skirk Fire Marshal

Edition:
Onslaught

Type:
Creature - Goblin Lord

Color:
Red

Cost:
3RR

Power / Toughness:
2/2

Rarity:
Rare

Artist:
Greg & Tim Hildebrandt

Text:
Protection from red.
Tap five untapped Goblins you control: Skirk Fire Marshal deals 10 damage to
each creature and each player.

Flavor:
He's boss because he's smart enough to get out of the way.