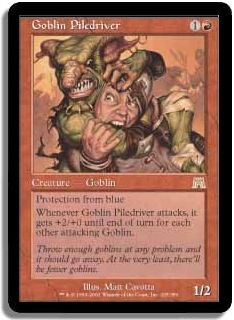 [Purchase on eBay]


Value: $16.10

All Editions:




Name:
Goblin Piledriver

Edition:
Onslaught

Type:
Creature - Goblin

Color:
Red

Cost:
1R

Power / Toughness:
1/2

Rarity:
Rare

Artist:
Matt Cavotta

Text:
Protection from blue
Whenever Goblin Piledriver attacks, it gets +2/+0 until end of turn for each
other attacking Goblin.

Flavor:
Throw enough goblins at any problem and it should go away. At the very least, there'll be fewer goblins.