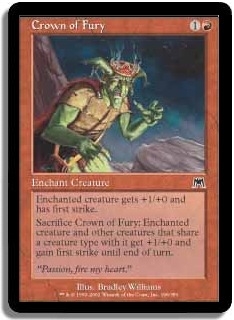 [Purchase on eBay]


Value: $0.12

All Editions:




Name:
Crown of Fury

Edition:
Onslaught

Type:
Enchant Creature

Color:
Red

Cost:
1R

Power / Toughness:


Rarity:
Common

Artist:
Bradley Williams

Text:
Enchanted creature gets +1/+0 and has first strike.
Sacrifice Crown of Fury: Enchanted creature and other creatures that share a creature type with it get +1/+0 and gain first strike until end of turn.


Flavor:
"Passion, fire my heart."