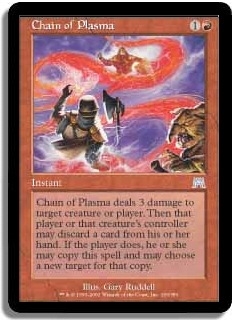 [Purchase on eBay]


Value: $0.24

All Editions:




Name:
Chain of Plasma

Edition:
Onslaught

Type:
Instant

Color:
Red

Cost:
1R

Power / Toughness:


Rarity:
Uncommon

Artist:
Gary Ruddell

Text:
Chain of Plasma deals 3 damage to target creature or player. Then that
player or that creature's controller may discard a card from his or her
hand. If the player does, he or she may copy this spell and may choose a new
target for that copy.