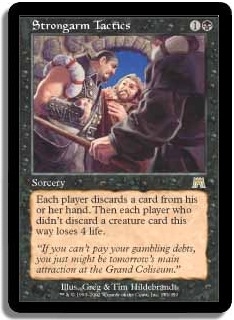 [Purchase on eBay]


Value: $0.41

All Editions:




Name:
Strongarm Tactics

Edition:
Onslaught

Type:
Sorcery

Color:
Black

Cost:
1B

Power / Toughness:


Rarity:
Rare

Artist:
Greg & Tim Hildebrandt

Text:
Each player discards a card from his or her hand. Then each player who didn't discard a creature card this way loses 4 life.

Flavor:
"If you can't pay your gambling debts, you just might be tomorrow's main attraction at the Grand Coliseum."