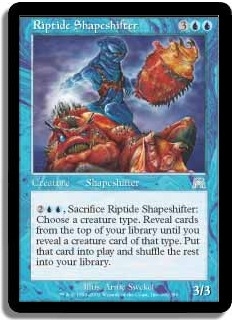 [Purchase on eBay]


Value: $0.23

All Editions:




Name:
Riptide Shapeshifter

Edition:
Onslaught

Type:
Creature - Shapeshifter

Color:
Blue

Cost:
3UU

Power / Toughness:
3/3

Rarity:
Uncommon

Artist:
Arnie Swekel

Text:
2UU, Sacrifice Riptide Shapeshifter: Choose a creature type. Reveal cards from the top of your library until you reveal a creature card of that type. Put that card into play and shuffle the rest into your library.