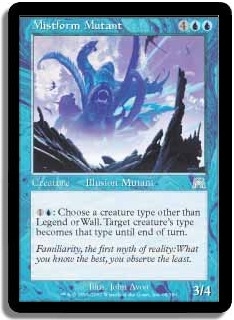 [Purchase on eBay]


Value: $0.19

All Editions:




Name:
Mistform Mutant

Edition:
Onslaught

Type:
Creature - Illusion Mutant

Color:
Blue

Cost:
4UU

Power / Toughness:
3/4

Rarity:
Uncommon

Artist:
John Avon

Text:
1U: Choose a creature type other than Legend or Wall. Target creature's type becomes that type until end of turn.

Flavor:
Familiarity, the first myth of reality: What you know the best, you observe the least.