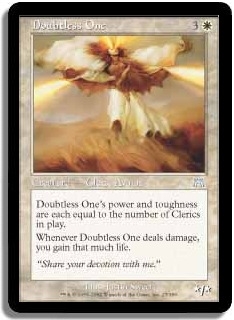 [Purchase on eBay]


Value: $0.48

All Editions:




Name:
Doubtless One

Edition:
Onslaught

Type:
Creature - Cleric Avatar

Color:
White

Cost:
3W

Power / Toughness:
*/*

Rarity:
Uncommon

Artist:
Justin Sweet

Text:
Doubtless One?s power and toughness are each equal to the number of Clerics in play.
Whenever Doubtless One deals damage, you gain that much life.


Flavor:
Share your devotion with me.