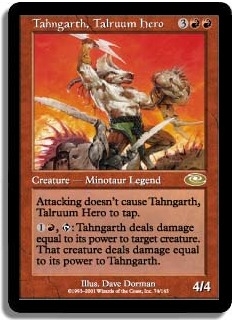 [Purchase on eBay]


Value: $0.77

All Editions:




Name:
Tahngarth, Talruum Hero

Edition:
Planeshift

Type:
Creature - Minotaur Legend

Color:
Red

Cost:
3RR

Power / Toughness:
4/4

Rarity:
Rare

Artist:
Dave Dorman

Text:
Attacking doesn't cause Tahngarth, Talruum Hero to tap.
1R,T:Tahngarth deals damage equal to its power to target creature. That creature deals damage equal to it power to Tahngarth.