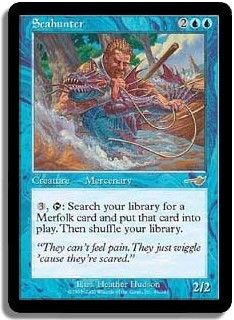 [Purchase on eBay]


Value: $0.71

All Editions:




Name:
Seahunter

Edition:
Nemesis

Type:
Creature - Mercenary

Color:
Blue

Cost:
2UU

Power / Toughness:
2/2

Rarity:
Rare

Artist:
Heather Hudson

Text:
3 T: Search your library for a Merfolk card and put that card into play. Then shuffle your library.

Flavor:
"They can't feel pain. They just wiggle 'cause they're scared."