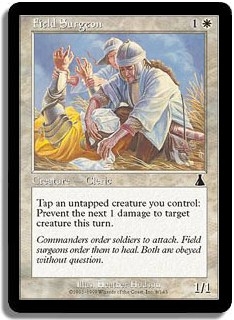 [Purchase on eBay]


Value: $0.13

All Editions:




Name:
Field Surgeon

Edition:
Urza's Destiny

Type:
Summon Creature - Cleric

Color:
White

Cost:
1W

Power / Toughness:
1/1

Rarity:
Common

Artist:
Heather Hudson

Text:
<Tap an untapped creature you control>: Prevent the next 1 damage to target creature this turn.

Flavor:
Commanders order soldiers to attack. Field surgeons order them to heal. Both are obeyed without question.