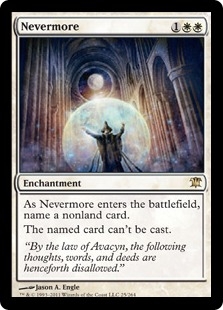 [Purchase on eBay]


Value: $0.36

All Editions:




Name:
Nevermore

Edition:
Innistrad

Type:
Enchantment

Color:
White

Cost:
1WW

Power / Toughness:


Rarity:
Rare

Artist:
Jason A. Engle

Text:
As Nevermore enters the battlefield, name a nonland card.
The named card can't be cast.

Flavor:
"By the law of Avacyn, the following thoughts, words, and deeds are henceforth disallowed."