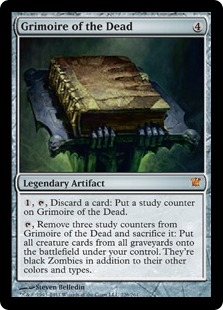 [Purchase on eBay]


Value: $1.24

All Editions:




Name:
Grimoire of the Dead

Edition:
Innistrad

Type:
Legendary Artifact

Color:
Unknown

Cost:
4

Power / Toughness:


Rarity:
Mythic

Artist:
Steven Belledin

Text:
1, Tap, Discard a card: Put a study counter on Grimoire of the Dead.
Tap, Remove three study counters from Grimoire of the Dead and sacrifice it: Put all creature cards from all graveyards onto the battlefield under your control. They're black Zombies in addition to their other colors and types.