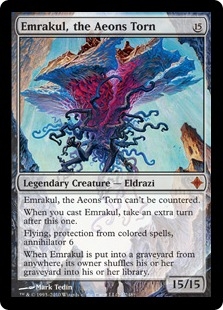 [Purchase on eBay]


Value: $19.10

All Editions:




Name:
Emrakul, the Aeons Torn

Edition:
Rise of the Eldrazi

Type:
Legendary Creature - Eldrazi

Color:
Unknown

Cost:
15

Power / Toughness:
15/15

Rarity:
Mythic

Artist:
Mark Tedin

Text:
Emrakul, the Aeons Torn can't be countered.
When you cast Emrakul, take an extra turn after this one.
Flying, protection from colored spells, annihilator 6
When Emrakul is put into a graveyard from anywhere, its owner shuffles his or her graveyard into his or her library.