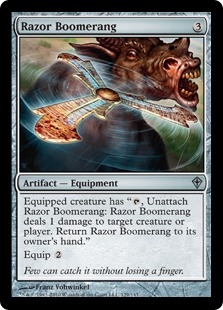 [Purchase on eBay]


Value: $0.15

All Editions:




Name:
Razor Boomerang

Edition:
Worldwake

Type:
Artifact - Equipment

Color:
Artifact

Cost:
3

Power / Toughness:


Rarity:
Uncommon

Artist:
Franz Vohwinkel

Text:
Equipped creature has "Tap, Unattach Razor Boomerang: Razor Boomerang deals 1 damage to target creature or player. Return Razor Boomerang to its owner's hand."
Equip 2

Flavor:
Few can catch it without losing a finger.