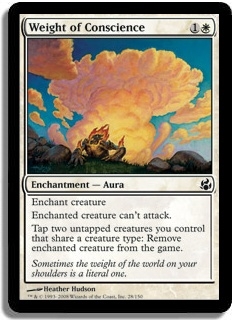 [Purchase on eBay]


Value: $0.11

All Editions:




Name:
Weight of Conscience

Edition:
Morningtide

Type:
Enchantment - Aura

Color:
White

Cost:
1W

Power / Toughness:


Rarity:
Common

Artist:
Heather Hudson

Text:
Enchant creature Enchanted creature can't attack. Tap two untapped creatures you control that share a creature type: Remove enchanted creature from the game.

Flavor:
Sometimes the weight of the world on your shoulders is a literal one.