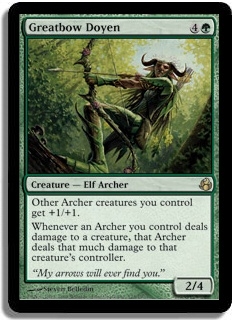 [Purchase on eBay]


Value: $0.47

All Editions:




Name:
Greatbow Doyen

Edition:
Morningtide

Type:
Creature - Elf Archer

Color:
Green

Cost:
4G

Power / Toughness:
2/4

Rarity:
Rare

Artist:
Steven Belledin

Text:
Other Archer creatures you control get +1/+1. Whenever an Archer you control deals damage to a creature, that Archer deals that much damage to that creature's controller.

Flavor:
"My arrows will ever find you."