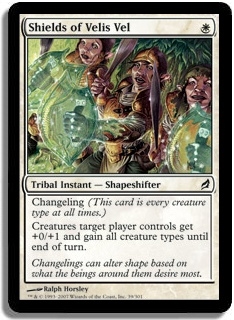 [Purchase on eBay]


Value: $0.11

All Editions:




Name:
Shields of Velis Vel

Edition:
Lorwyn

Type:
Tribal Instant - Shapeshifter

Color:
White

Cost:
W

Power / Toughness:


Rarity:
Common

Artist:
Ralph Horsley

Text:
Changeling (This card is every creature type at all times.) Creatures target player controls get +0/+1 and gain all creature types until end of turn.

Flavor:
Changelings can alter shape based on what the beings around them desire most.