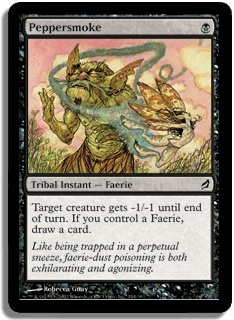 [Purchase on eBay]


Value: $0.11

All Editions:




Name:
Peppersmoke

Edition:
Lorwyn

Type:
Tribal Instant - Faerie

Color:
Black

Cost:
B

Power / Toughness:


Rarity:
Common

Artist:
Rebecca Guay

Text:
Target creature gets -1/-1 until end of turn. If you control a Faerie, draw a card.

Flavor:
Like being trapped in a perpetual sneeze, faerie-dust poisoning is both exhilarating and agonizing.