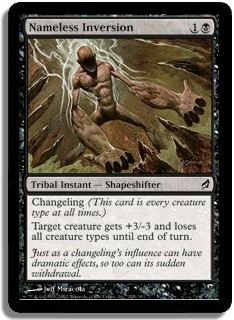 [Purchase on eBay]


Value: $0.15

All Editions:




Name:
Nameless Inversion

Edition:
Lorwyn

Type:
Tribal Instant - Shapeshifter

Color:
Black

Cost:
1B

Power / Toughness:


Rarity:
Common

Artist:
Jeff Miracola

Text:
Changeling (This card is every creature type at all times.) Target creature gets +3/-3 and loses all creature types until end of turn.

Flavor:
Just as a changeling's influence can have dramatic effects, so too can its sudden withdrawal.