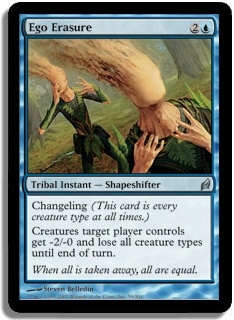 [Purchase on eBay]


Value: $0.15

All Editions:




Name:
Ego Erasure

Edition:
Lorwyn

Type:
Tribal Instant - Shapeshifter

Color:
Blue

Cost:
2U

Power / Toughness:


Rarity:
Uncommon

Artist:
Steven Belledin

Text:
Changeling (This card is every creature type at all times.) Creatures target player controls get -2/-0 and lose all creature types until end of turn.

Flavor:
When all is taken away, all are equal.