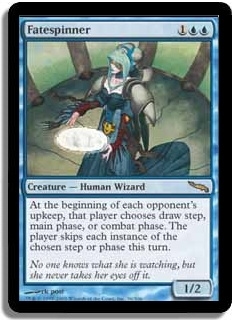 [Purchase on eBay]


Value: $0.98

All Editions:




Name:
Fatespinner

Edition:
Mirrodin

Type:
Creature - Human Wizard

Color:
Blue

Cost:
1UU

Power / Toughness:
1/2

Rarity:
Rare

Artist:
rk post

Text:
At the beginning of each opponent's upkeep, that player chooses draw step, main phase, or combat phase. The player skips each instance of the chosen step or phase this turn.

Flavor:
No one knows what she is watching, but she never takes her eyes off it.