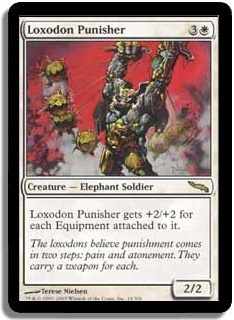 [Purchase on eBay]


Value: $0.40

All Editions:




Name:
Loxodon Punisher

Edition:
Mirrodin

Type:
Creature - Elephant Soldier

Color:
White

Cost:
3W

Power / Toughness:
2/2

Rarity:
Rare

Artist:
Terese Nielsen

Text:
Loxodon Punisher gets +2/+2 for each Equipment attached to it.

Flavor:
The loxodons believe punishment comes in two steps: pain and atonement. They carry a weapon for each.