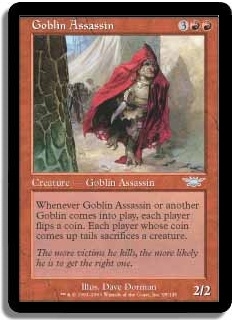 [Purchase on eBay]


Value: $0.20

All Editions:




Name:
Goblin Assassin

Edition:
Legions

Type:
Creature - Goblin Assassin

Color:
Red

Cost:
3RR

Power / Toughness:
2/2

Rarity:
Uncommon

Artist:
Dave Dorman

Text:
Whenever Goblin Assassin or another Goblin comes into play, each player flips a coin. Each player whose coin comes up tails sacrifices a creature.

Flavor:
"The more victims he kills, the more likely he is to get the right one."