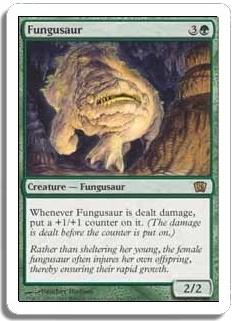 [Purchase on eBay]


Value: $0.43

All Editions:




Name:
Fungusaur

Edition:
8th Edition

Type:
Creature - Fungusaur

Color:
Green

Cost:
3G

Power / Toughness:
2/2

Rarity:
Rare

Artist:
Heather Hudson

Text:
Whenever Fungusaur is dealt damage, put a +1/+1 counter on it. (The damage is dealt before the counter is put on.)

Flavor:
Rather than sheltering her young, the female fungusaur often injures her own offspring, thereby ensuring their rapid growth.