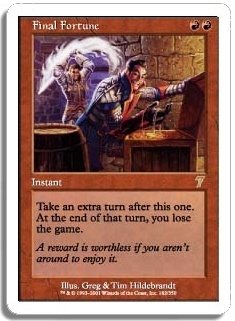 [Click Here To Buy This Card!]


Value: $1.08

All Editions:






Name:
Final Fortune

Edition:
7th Edition

Type:
Instant

Color:
Red

Cost:
RR

Power / Toughness:


Rarity:
Rare

Artist:
Greg & Tim Hildebrandt

Text:
Take an extra turn after this one. At the end of that turn, you lose the game.

Flavor:
A reward is worthless if you aren't around to enjoy it.