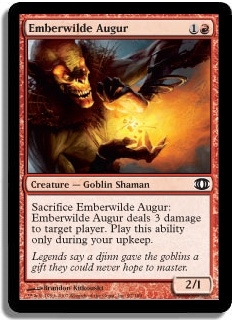 [Purchase on eBay]


Value: $0.12

All Editions:




Name:
Emberwilde Augur

Edition:
Future Sight

Type:
Creature - Goblin Shaman

Color:
Red

Cost:
1R

Power / Toughness:
2/1

Rarity:
Common

Artist:
Brandon Kitkouski

Text:
Sacrifice Emberwilde Augur: Emberwilde Augur deals 3 damage to target player. Play this ability only during your upkeep.

Flavor:
Legends say a djinn gave the goblins a gift they could never hope to master.