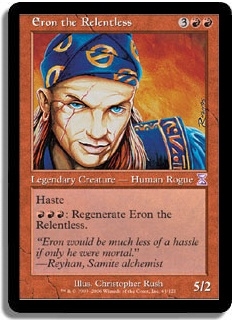 [Purchase on eBay]


Value: $0.25

All Editions:



Name:
Eron the Relentless

Edition:
Time Spiral: Timeshifted

Type:
Legendary Creature - Human Rogue

Color:
Red

Cost:
3RR

Power / Toughness:
5/2

Rarity:
Uncommon

Artist:
Christopher Rush

Text:
Haste RRR: Regenerate Eron the Relentless.

Flavor:
"Eron would be much less of a hassle if only he were mortal."
—Reyhan, Samite alchemist"