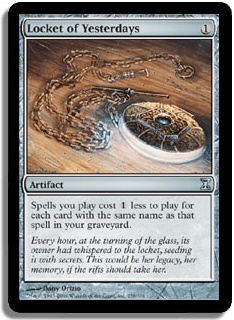 [Purchase on eBay]


Value: $0.19

All Editions:




Name:
Locket of Yesterdays

Edition:
Time Spiral

Type:
Artifact

Color:
Artifact

Cost:
1

Power / Toughness:


Rarity:
Uncommon

Artist:
Dany Orizio

Text:
Spells you play cost 1 less to play for each card with the same name as that spell in your graveyard.

Flavor:
Every hour, at the turning of the glass, its owner had whispered to the locket, seeding it with secrets. This would be her legacy, her memory, if the rifts should take her.