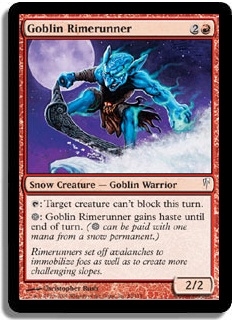 [Purchase on eBay]


Value: $0.12

All Editions:




Name:
Goblin Rimerunner

Edition:
Coldsnap

Type:
Snow Creature - Goblin Warrior

Color:
Red

Cost:
2R

Power / Toughness:
2/2

Rarity:
Common

Artist:
Christopher Rush

Text:
T Target creature can't block this turn. oSi: Goblin Rimerunner gains haste until end of turn. (oSi can be paid with one mana from a snow permanent.)

Flavor:
Rimerunners set off avalanches to immobilize foes as well as to create more challenging slopes.