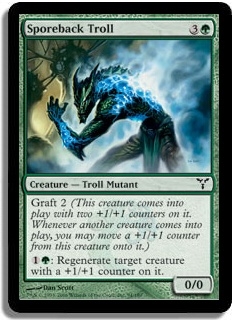 [Purchase on eBay]


Value: $0.11

All Editions:




Name:
Sporeback Troll

Edition:
Dissension

Type:
Creature - Troll Mutant

Color:
Green

Cost:
3G

Power / Toughness:
0/0

Rarity:
Common

Artist:
Dan Scott

Text:
Graft 2 (This creature comes into play with two +1/+1 counters on it. Whenever another creature comes into play, you may move a +1/+1 counter from this creature onto it.)
1G: Regenerate target creature with a +1/+1 counter on it.