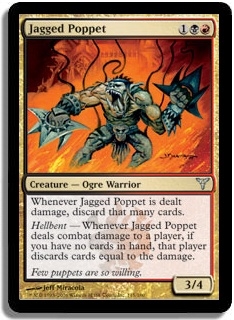 [Purchase on eBay]


Value: $0.19

All Editions:




Name:
Jagged Poppet

Edition:
Dissension

Type:
Creature - Ogre Warrior

Color:
Multi

Cost:
1BR

Power / Toughness:
3/4

Rarity:
Uncommon

Artist:
Jeff Miracola

Text:
Whenever Jagged Poppet is dealt damage, discard that many cards.
Hellbent - Whenever Jagged Poppet deals damage to an opponent, if you have no cards in your hand, he or she discards that many cards as long as you have no cards in hand.

Flavor:
Few puppets are so willing.