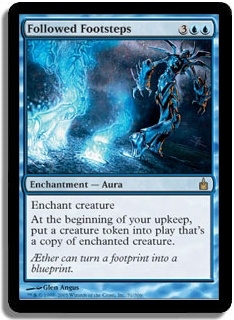 [Click Here To Buy This Card!]


Value: $1.16

All Editions:




Name:
Followed Footsteps

Edition:
Ravnica: City of Guilds

Type:
Enchantment - Aura

Color:
Blue

Cost:
3UU

Power / Toughness:


Rarity:
Rare

Artist:
Glen Angus

Text:
Enchant creature
At the beginning of your upkeep, put a creature token into play that's a copy of enchanted creature.

Flavor:
AEther can turn a footprint into a blueprint.