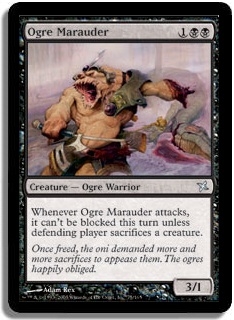 [Purchase on eBay]


Value: $0.25

All Editions:




Name:
Ogre Marauder

Edition:
Betrayers of Kamigawa

Type:
Creature - Ogre Warrior

Color:
Black

Cost:
1BB

Power / Toughness:
3/1

Rarity:
Uncommon

Artist:
Adam Rex

Text:
Whenever Ogre Marauder attacks, it can't be blocked this turn unless defending player sacrifices a creature.

Flavor:
Once freed, the oni demanded more and more sacrifices to appease them. The ogres happily obliged.