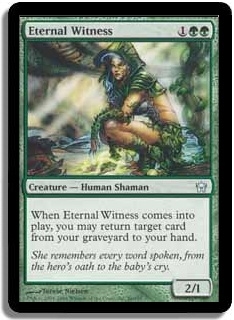 [Click Here To Buy This Card!]


Value: $4.35

All Editions:





Name:
Eternal Witness

Edition:
Fifth Dawn

Type:
Creature - Human Shaman

Color:
Green

Cost:
1GG

Power / Toughness:
2/1

Rarity:
Uncommon

Artist:
Terese Nielsen

Text:
When Eternal Witness comes into play, return target card from your graveyard to your hand.

Flavor:
She remembers every word spoken, from the hero's oath to the baby's cry.