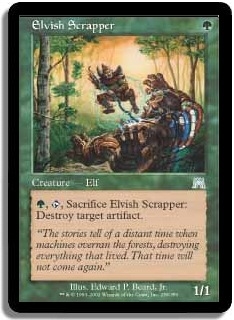 [Purchase on eBay]


Value: $0.22

All Editions:




Name:
Elvish Scrapper

Edition:
Onslaught

Type:
Creature - Elf

Color:
Green

Cost:
G

Power / Toughness:
1/1

Rarity:
Uncommon

Artist:
Edward P. Beard, Jr.

Text:
G, T, Sacrifice Elvish Scrapper: Destroy target artifact.

Flavor:
The stories tell of a distant time when machines overran the forests, destroying everything that lived. That time will not come again.