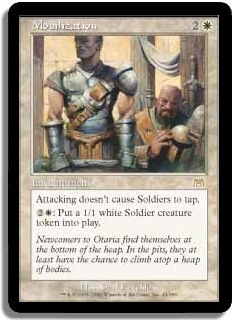 [Purchase on eBay]


Value: $1.91

All Editions:




Name:
Mobilization

Edition:
Onslaught

Type:
Enchantment

Color:
White

Cost:
2W

Power / Toughness:


Rarity:
Rare

Artist:
Carl Critchlow

Text:
Attacking doesn?t cause Soldiers to tap.
2W: Put a 1/1 white Soldier creature token into play.


Flavor:
Newcomers to Otaria find themselves at the bottom of the heap. In the pits, they at least have the chance to climb atop a heap of bodies.