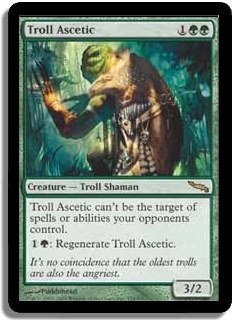 [Purchase on eBay]


Value: $1.70

All Editions:




Name:
Troll Ascetic

Edition:
Mirrodin

Type:
Creature - Troll Shaman

Color:
Green

Cost:
1GG

Power / Toughness:
3/2

Rarity:
Rare

Artist:
Puddnhead

Text:
Troll Ascetic can't be the target of spells or abilities your opponents control. 1G: Regenerate Troll Ascetic.

Flavor:
It's no coincidence that the oldest trolls are also the angriest.