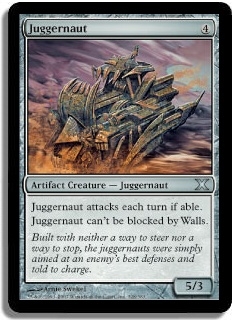 [Purchase on eBay]


Value: $0.20

All Editions:




Name:
Juggernaut

Edition:
10th Edition

Type:
Artifact Creature - Juggernaut

Color:
Artifact

Cost:
4

Power / Toughness:
5/3

Rarity:
Uncommon

Artist:
Arnie Swekel

Text:
Juggernaut attacks each turn if able. Juggernaut can't be blocked by Walls.

Flavor:
Built with neither a way to steer nor a way to stop, the juggernauts were simply aimed at an enemy's best defenses and told to charge.