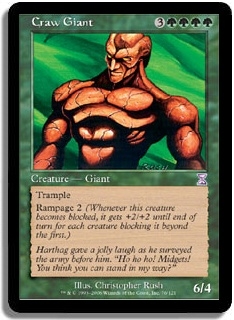 [Purchase on eBay]


Value: $0.26

All Editions:




Name:
Craw Giant

Edition:
Time Spiral: Timeshifted

Type:
Creature - Giant

Color:
Green

Cost:
3GGGG

Power / Toughness:
6/4

Rarity:
Uncommon

Artist:
Christopher Rush

Text:
Trample Rampage 2 (Whenever this creature becomes blocked, it gets +2/+2 until end of turn for each creature blocking it beyond the first.)

Flavor:
Harthag gave a jolly laugh as he surveyed the army before him. "Ho ho ho! Midgets! You think you can stand in my way?"